SETDA's 2019 Top Picks: 11 Resources for Educators, Administrators & Policy Makers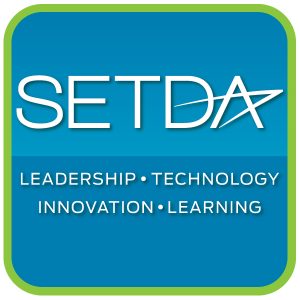 2019 was an action packed year for SETDA. Always working to engage state leaders, affiliates members, private sector partners, and partner organizations-SETDA developed tools and resources to support national, state, district and school leaders in the implementation of the digital teaching and learning. Collaborating with experts across the nation, SETDA's new and updated resources are openly licensed and available at no cost to the public. Please take a moment to review highlights from SETDA's work that supports broadband implementation, E-rate advocacy, digital instructional materials, professional learning and interoperability. Our students deserve the best resources to live and thrive in our digital world. 
To stay up to date on SETDA's latest work subscribe to our mailing list and follow us on Twitter @setda, Facebook, Instagram @setdaorg and Linkedin.  If you missed any of SETDA's media coverage for 2016 you can always access SETDA initiatives and staff In the News and the 2019 Press Releases.
You can access details about each of these resources via this SETDA Resources 2019 Final.
Professional Learning
Professional Learning is a topic that SETDA brought to the forefront in 2019 with several new resources. A new Professional Learning Priority section on SETDA.org. An added  Professional Learning section in the Digital Instructional Materials Acquisition Policies for States portal where visitors can learn about state professional learning opportunities to support teachers in the selection and implementation of digital instructional materials.  publication of the Professional Learning Dashboard.This dashboard includes state and district examples of professional learning practices to support digital learning, personalized learning, quality materials and leadership
The Shift to Digital Instructional Materials
SETDA was both a year for updating current SETDA digital content resources and a time to launch new resources to support state and district leaders, policy makers and the private sector.  The Guide to Quality Instructional Materials was reorganized, streamlined and new content was added to provide guidance to administrators and educators in the selection and implementation of instructional materials. The toolkit includes useful resources, guidance and examples that will help identify best practices when considering instructional materials including both core-instructional materials and supplemental resources.
The Digital Instructional Materials Acquisition Policies for States (DMAPS) online portal  was updated and expanded in 2019, to provide a clearer picture of each state's instructional materials policies and practices to help encourage increased implementation of digital learning. Educators, policy makers and private sector executives have the opportunity to learn about state policies and practices regarding the selection, procurement, implementation and accessibility of instructional materials, including the ability to access individual state profiles.
A new report, State K12 Instructional Materials Leadership Trends Snapshot summarized current state policies and practices in the selection and implementation of digital instructional materials. This report is based on the 2019 updates to the Digital Instructional Materials Acquisition Policies for States (DMAPS) online portal. The 2019 Navigating the Digital Shift publication highlights how state policies and guidance are supporting the transformation to personalized learning through digital instructional materials. Specifically, the report includes personalized learning approaches and the policies and processes around the selection, curation, procurement, professional learning and funding of digital instructional materials. 
Based on the request of multiple state leaders, SETDA developed the K12 Instructional Materials Dashboard  of state reviewed, full course instructional materials for English/Language Arts and math at the secondary level. Resources can be sorted by state, content area, subject area, grade level, format, publisher and copyright date. Educators and publishers can discover reviewed, core instructional materials from a variety of states and identify trends in instructional materials across multiple states.
Broadband
The Broadband Imperative III: Driving Connectivity, Access and Student Success report advocates for equitable, reliable, robust broadband access both on and off campus to prepare all students for life and work. This report builds upon SETDA's earlier work, including it's groundbreaking Broadband Imperative series of reports and State Broadband K12 Leadership reports. Exemplars highlight states and districts where robust bandwidth has already positively impacted teaching and learning. In addition, SETDA's report, State K-12 Broadband Leadership: Driving Connectivity, Access and Student Success highlights the importance of state leadership and the various ways states strive to support districts and schools to achieve equitable digital learning opportunities for all students both on campus and outside of school. Complementing this paper is an online story map to provide real time details regarding State K-12 Broadband Leadership. The story map includes the following details: state leadership, state network details, regional network details, alternative model details, state strategies & state broadband funding. http://arcg.is/setdabroadbandmap

Interoperability
SETDA is partnering with CCSSO to strategically align efforts on improving State Education Agency (SEA) data and system interoperability by expanding the adoption of standards, solutions, and practices necessary to impact the education community broadly. CCSSO and SETDA both share a belief that improving data interoperability is an important element to improving student outcomes. With funds made available by the Michael and Susan Dell Foundation, CCSSO and SETDA are collaborating on an interoperability themed project titled Project Nessie (Nurturing Engagement & Support for State Education Interoperability Efforts).
Overall, the level of commitment from the SETDA's membership to support these resources and the collaboration with a variety of partners has made these resources truly valued by many. SETDA looks forward to collaborating on new opportunities in 2020 to provide sustained support for digital learning leaders.
Christine Fox is the Deputy Executive Director for SETDA. As Deputy Executive Director, she collaborates with the Executive Director in charting strategic direction, administration, planning and financial decisions involving SETDA. She also facilitates the members' professional learning opportunities including planning and implementing the content for SETDA's virtual and in-person events and newsletters. In addition, she manages many of SETDA's research and product development projects from conception to publication. The management of such projects includes coordinating data collection from all states, supervising consultants and staff, ensuring member input and supervising the publishing process. Recent publications and projects include Navigating the Digital Shift reports 2015- 2019, the Professional Learning and K12 Instructional Materials Dashboards, the Broadband Imperative Report Series, Guide to Quality Instructional Materials, Digital Instructional Materials Acquisition Policies for States, The Broadband Imperative II: Equitable Access for Learning. Christine Fox's background includes experience in education and consulting. She has worked as an educational consultant and curriculum developer for a national whole school reform model, ESOL Coordinator and 3rd grade teacher. Christine has a Masters of Science in Teaching English as a Second Language from Florida International University and received her Bachelor's degree in English Literature from Florida State University. She lives in south Florida with her husband and two daughters.