About Us
Building the capacity of leaders to improve education through technology
The State Educational Technology Directors Association (SETDA) is a 501(c)3 not-for-profit membership association launched by state education agency leaders in 2001 to serve, support and represent their emerging interests and needs with respect to the use of technology for teaching, learning, and school operations. Our current work is guided by a strategic plan, Leading, Inspiring and Empowering: The 2017-20 SETDA Strategic Plan, adopted by the SETDA Board of Directors in October 2016 after extensive consultation with the membership.
Two-page summary of Resources from SETDA.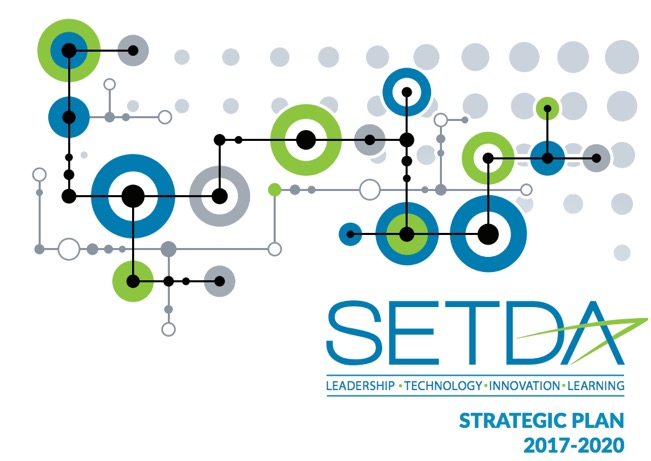 1) ADVOCACY: Advocate for education and technology policies and practices designed to effectively leverage technology for learning.
2) STATE ACTION: Inspire and assist states to act collaboratively to advance education through technology policy and practice.
3) STRATEGIC PARTNERSHIPS: Establish and engage in strategic partnerships to advance education through technology policy and practice.
4) PROFESSIONAL LEARNING: Provide relevant, high-quality professional learning opportunities for members.
5) COMMUNICATIONS: Ensure effective communication between and among SETDA, our members, strategic partners, and other key audiences.
6) OPERATIONS: Provide effective organizational governance, planning and management to fulfill our mission.
The SETDA mission is to build and increase the capacity of state and national leaders to improve education through technology policy and practice. In carrying out this mission, we are committed to:
Serving every U.S. state and territorial education agency
Maintaining a future-focused, holistic view on how to leverage technology for education
Fostering collaboration among our members, strategic partners and other education leaders and policymakers
Taking action on important issues facing public education
2016-2017 Year in Review
SETDA Leaders Through the Years (2001-2016)
from
SETDA
.
Per the SETDA By-Laws (ratified 6/24/2018), the SETDA budget is approved annually by the Board of Directors and ratified by the membership. SETDA revenues come from a combination of state membership dues, annual and event sponsorships, and government and private contracts and grants. Incorporated in Virginia, more detailed financial information about SETDA can be found in our annual filings with the IRS: