Through the continued leadership of the Board of Directors and the dedication of our members and staff, during 2016 SETDA celebrated 15 years of leadership, hired a new permanant Executive Director ~ Dr. Tracy Weeks, published a new strategic plan,  developed resources to advance learning in the digital age and provided opportunities for state leaders to collaborate with one another and with private sector industry leaders. Based on the needs of our members and partners, SETDA focused efforts on developing resources and provided support for ESSA, equity of access, digital instructional materials and the implementation of digital learning. SETDA continues to expand outreach including adding new Affiliate partners such as the State Instructional Materials Review Association (SIMRA) and KanRen and by providing technical assistance to state Title IIA leaders. SETDA looks forward to new opportunities to provide sustained support for state digital learning leaders. To stay up to date on SETDA's latest work subscribe to our mailing list and follow us on Twitter @setda.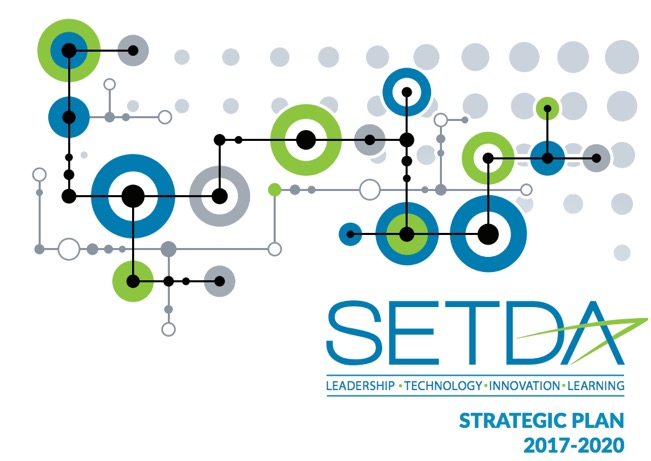 SETDA's 2017-2020 strategic plan was adopted and released by the SETDA Board of Directors in October 2016 after extensive consultation with the membership and partners. SETDA looks forward to connecting with education leaders to implement the plan over the next three years.
Through out 2016, SETDA celebrated our 15th year which culminated with the Annual Awards Gala at the Leadership Summit in October. Take a moment to view SETDA resources and relationships "through the years".
 SETDA and Common Sense Kids Action's report, State K-12 Broadband Leadership: Driving Connectivity and Access highlights the powerful impact of state leadership in driving critical policy decisions at the national and state level to support broadband networks, bandwidth capacity and home access for low-income families. Educators, policy makers and the private sector will benefit from organized and accessible information regarding states' broadband and wi-fi implementation for all 50 states, Guam and the Commonwealth of the Mariana Islands. The report focuses on these areas: K-12 Broadband and Wi-Fi Connectivity, State Leadership for Infrastructure, State Broadband Implementation Highlights, State Advocacy for Federal Support of Broadband.
The Broadband Imperative II: Equitable Access for Learning, SETDA continues to advocate for increasing robust access both in and out of school to best prepare all students for college and careers. This 2016 report expands on earlier recommendations from SETDA's groundbreaking report, The Broadband Imperative: Recommendations to Address K-12 Education Infrastructure Needs and SETDA and Common Sense Kids Action's State K-12 Broadband Leadership: Driving Connectivity and Access report. Recommendations include: 1. Increase Infrastructure to Support Student-Centered Learning 2. Design Infrastructure to Meet Capacity Targets 3. Ensure Equity of Access for All Students Outside of School 4. Leverage State Resources to Increase Broadband Access

SETDA in the News: If you missed any of SETDA's media coverage for 2016 you can always access SETDA initiatives and staff In the News and the 2016 Press Releases.
SaveSave